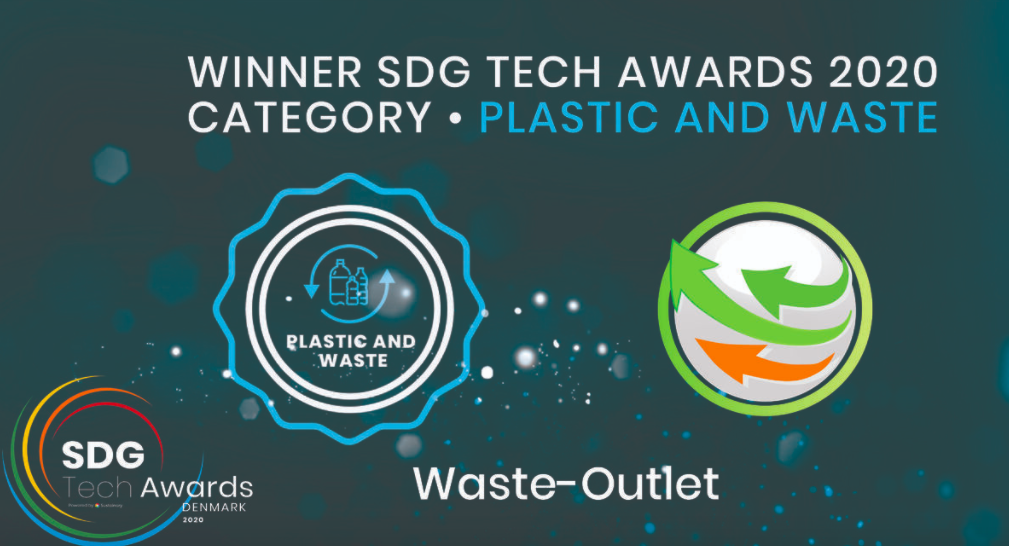 Waste-Outlet, the winner of SDG Tech Awards 2020 in the "Plastic and Waste" Category
On Thursday, 22nd of October, Waste-Outlet was announced the winner of SDG Tech Awards in the category of "Plastic and waste". The goal of the event was to highlight the best sustainability solutions in Denmark and encourage the implementation of them. The event hosted over 500 attendees from different companies and had over 300 nominees in 14 categories. 
SDG Tech Awards strives to become a yearly event after its huge success in 2019. It also made it possible to bring the event on an international level by hosting the SDG Tech Awards Brazil.
The proposed solution for the SDG Tech Awards 2020 lies down in the daily operations of Waste-Outlet. We strive to create an efficient trading platform for waste and secondary raw materials As of 2018, it was estimated that 91% of total plastic in the world is not recycling, therefore ending its journey on landfills and in the ocean. The mass production of plastic started merely 8 decades ago, and in such a relatively small amount of time for our planet, it became one of the most concerning environmental crises. It is important that companies around the world get aware of the benefits and cost saving of recycling materials, rather than make products of virgin materials.
We would like to express our gratitude to Sustainary, for raising awareness of up-mentioned environmental issues, as well as providing opportunity to companies striving to achieve the 17 Sustainable Development Goals founded by United Nations.
You have to be registered with a free account to see prices and be able to place bids.
Login
Invalid Login Credentials!
Something Went Wrong!
Please check your email and complete registration. Please check your spam folder just in case the confirmation email got delivered there instead of your inbox.
You cannot login at this time. The verification review process can take up to 12 hours. You will receive an email for your confirmation of the registration.
Your account has been rejected. Please check your email for more information.
Forgot Password
Enter your email below. Password reset instructions will be sent to your email.
We didn't recongnize your account.
Something Went Wrong!
Inactive account. You have to wait for activation
Your account has been rejected. Please check your email for more information.
Check your email address for your new password.